MANILA, PHILIPPINES––The issue comes as healthcare workers protest a deployment ban which prohibited those with overseas employment contracts from leaving, saying they are needed to assist in the country's COVID-19 response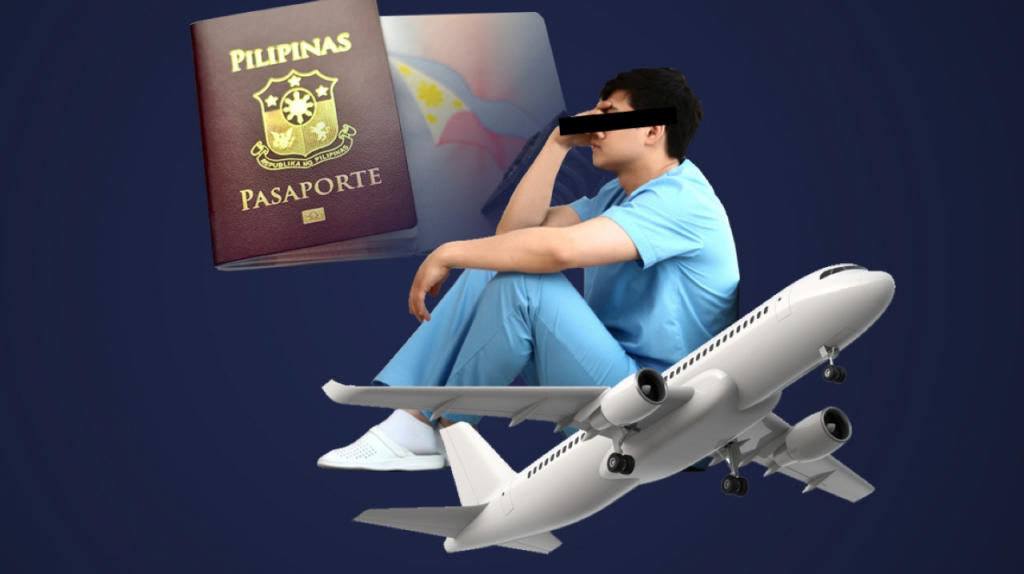 Immigration officials prohibited seven Filipino nurses from leaving the Philippines to pursue their employment contracts in the United Kingdom.
The issue comes as healthcare workers are protesting a deployment ban which prohibited those with overseas employment contracts from leaving, saying they are needed to assist in the country's COVID-19 response.
Giving in to the public pressure, the government relented and allowed for exemptions last August 17. Healthcare workers with employment contracts approved before or as of March 8 – when the government declared a nationwide state of public health emergency – would be allowed to depart.
However, the interpretation of the exemption became a source of confusion and uneven implementation as 7 Filipino nurses on two different flights to the United Kingdom were barred from leaving.
Z.G. was already in the plane when one of the other nurses called him saying that she had been prevented from boarding. "Sabi niya kayo lang ang makakaalis, hindi daw ako puwede, (She told me that we were the only ones who could leave and she wasn't allowed to)" said Z.G., who asked to be identified only by his initials.
He had just put down the phone when his name and those of his 3 companions who were already in the plane were announced.
"Kailangan daw namin bumaba. Feeling ko yung parang pinaalis ka sa classroom ng teacher mo. Habang naglalakad ako sa aisle, lahat sila nakatingin sa iyo. Ngayon, hindi ko alam kung ano ang feeling ko," said Z.G.
(They told us we had to deplane. I felt like I was being asked to leave the classroom by my teacher and while I was walking down the aisle, everyone was looking at me. Now I don't know how to feel.)
A screenshot of a Bureau of Immigration memo Z.G. sent to Rappler showed that medical professionals and healthcare workers with existing contracts as of March 8, 2020 would be allowed to leave. However, those who were newly hired and whose visas were secured after March 8 would be prohibited from departing.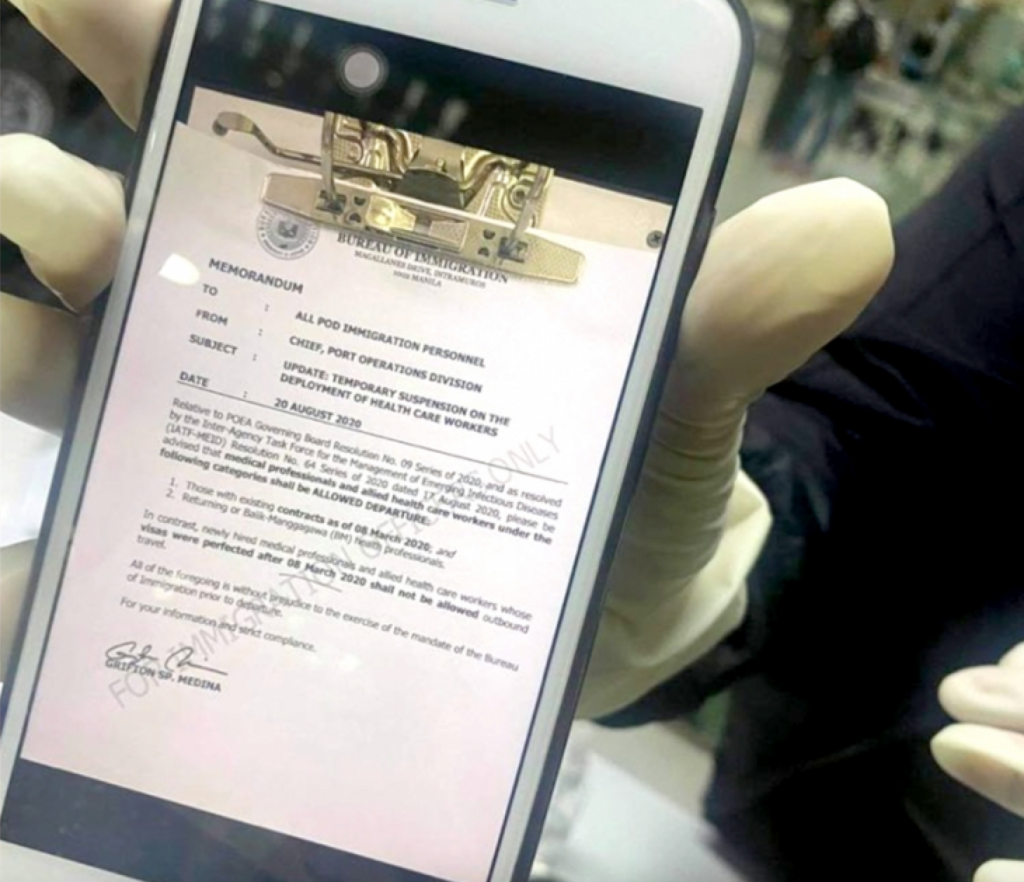 Z.G. and his group secured their contracts before March 8, but due to the lockdown and the closure or limited operations of visa offices during the 3-month enhanced community quarantine declared last March, their visas were only released in July and August.
"It doesn't make sense to base (our offloading) on when we got our visas. You cannot get your visa without an approved contract and we got our contract a long time ago," said Z.G. in a mix of Filipino and English.
Filipino Nurses United (FNU), a nationwide union of nurses, confirmed two other nurses onboard an Emirates flight going to the United Kingdom were also offboarded.
"I am so devastated." said T.J. who like Z.G. was set to work in a hospital in Wolverhampton, United Kingdom.
"This waiting started at the beginning of the year but even before that, it took me almost 3 years to complete the exams and trainings required by my employer. Now, I feel like our world has stopped again," she said.
The group of 7 was hoping that the issue could be ironed out so they could re-book their flights and leave later that evening. Z.G. came from the province of Quezon and had nowhere to stay while waiting for another flight. Another nurse was from Ilocos.
FNU attempted to assist the group by speaking to the Bureau of Immigration and the Department of Labor but as of last night, there was still no clear answer as to when the group would be allowed to leave – or if they would be allowed to do so.
The Labor Department and BOI could not be contacted as of this writing.
Citing government statistics, FNU Chairperson Maristela Abenojar said that there are over 200,000 unemployed nurses and an estimated 19,000 that leave annually to work abroad.
Abenojar said, "There are more than enough unemployed nurses that can be hired to help with the COVID response. We cannot prevent those with employment contracts from leaving. It is a violation of their constitutional right to travel and seek employment. It is preventing them from earning a livable wage that will give their families a better life." (READ: Why our nurses are leaving)
A recent study showed that the salary of nurses in the Philippines is the lowest in the Southeast Asian region. (Low pay, high risk: The reality of nurses in the Philippines)
According to Abenojar, the deployment ban on healthcare workers has caused much financial hardship and emotional anguish among nurses.
"Some took out loans to pay for nursing school and trainings. Others have not been able to work while they are waiting for the lifting of the deployment ban. The government must provide nurses with just salaries and benefits, security of tenure and humane work conditions to entice more nurses to stay in the country. They shouldn't be punished for seeking opportunities elsewhere." – Rappler.com