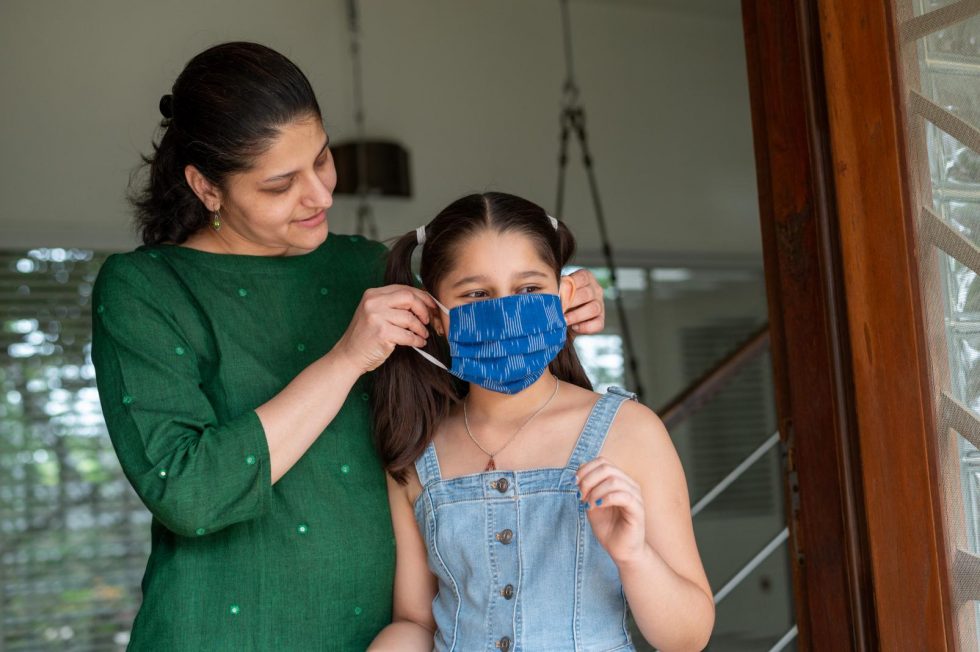 The coronavirus disease (COVID-19) pandemic has upended the lives of children and their families around the world. As COVID-19 has spread, so has misinformation – fueling discrimination and stigma. UNICEF is working with health experts to promote facts over fear, bringing trustworthy guidance and answering some of the questions families might have.
What is COVID-19?
Coronavirus disease 2019 (COVID-19) – 'CO' stands for corona, 'VI' for virus, and 'D' for disease – is a disease caused by a new strain of coronavirus first identified in Wuhan, China.
COVID-19 has been described as a pandemic by the World Health Organization. What does that mean? 
Characterizing COVID-19 as a pandemic is not an indication that the virus has become deadlier. Rather, it's an acknowledgement of the disease's geographical spread.
What are the symptoms?
Many COVID-19 symptoms are similar to those of the flu, the common cold and other conditions, so a test is required to confirm if someone has COVID-19. Symptoms may appear 2 to 14 days after exposure to the virus and can range from very mild to severe illness. Some people who have been infected don't have any symptoms.
The most common symptoms are fever, cough, and tiredness. Other symptoms can include shortness of breath, chest pain or pressure, muscle or body aches, headache, loss of taste or smell, confusion, sore throat, congestion or runny nose, diarrhea, nausea and vomiting, abdominal pain, and skin rashes. In addition to these symptoms, infants may have difficulty feeding.
Children of any age can become ill with COVID-19. While children and adults experience similar symptoms, children generally have less serious illness than adults.
Symptoms requiring urgent medical attention include difficulty breathing/fast or shallow breathing (also grunting, inability to breastfeed in infants), blue lips or face, chest pain or pressure, confusion, inability to awaken/not interacting, inability to drink or keep down any liquids, severe stomach pain.
Also, there is a vaccine for the flu – so remember to keep yourself and your child up to date with vaccinations. 
How does the COVID-19 virus spread?
The virus is spread mainly when respiratory droplets from an infected person (generated through coughing, sneezing, talking, singing) get into the mouth, nose or eyes of people who are nearby. People may also become infected by touching their mouth, nose or eyes after touching surfaces contaminated with the virus. The COVID-19 virus may also survive on surfaces for a few hours to several days, although simple disinfectants can kill it.
Airborne transmission of the virus, also known as aerosol transmission, can occur in health care settings where certain medical procedures generate very small droplets, called aerosols, that linger in the air. In addition, you've probably heard reports about the possibility of short-range airborne transmission – particularly in poorly ventilated, crowded indoor spaces, where people who are infected are spending extended periods of time close to others. So far, the evidence suggests that airborne transmission of COVID-19 over long distances is unlikely.
Based on what we currently know, transmission of COVID-19 is primarily occurring from people when they have symptoms (including mild symptoms), and can also happen just before they develop symptoms, when they are in close proximity with others for prolonged periods of time. While someone who never develops symptoms can also pass the virus to others, there's ongoing research into how often this is the case.
How can I protect myself and others from COVID-19?
Here are some precautions you and your family can take to help avoid infection:
Wash your hands frequently using soap and water or an alcohol-based hand rub
Cover mouth and nose with flexed elbow or tissue when coughing or sneezing. Dispose of used tissue immediately
Keep at least 1 metre distance between yourself and others
Regularly clean and disinfect frequently touched surfaces like phones, doorknobs, light switches and countertops
Seek medical care early if you or your child has a fever, cough, difficulty breathing or other symptoms of COVID-19
Avoid crowded places, confined and enclosed spaces with poor ventilation, and try to practice physical distancing from people in public
Wear fabric masks when in public places where there is community transmission and where physical distancing is not possible
Keep all indoor spaces well ventilated
Should I wear a medical mask?
The use of a medical mask is advised if you have respiratory symptoms (coughing or sneezing) to protect others, or if you are caring for someone who may have COVID-19.
If masks are worn, they must be used and disposed of properly to ensure their effectiveness and to avoid any increased risk of transmitting the virus. Disposable face masks can only be used once.
The use of a mask alone is not enough to stop infections and must be combined with frequent hand washing, covering sneezes and coughs, and avoiding close contact with anyone with cold or flu-like symptoms (coughing, sneezing, fever).
Does COVID-19 affect children?
This is a new virus and we are still learning how it affects children or pregnant women. We know it is possible for people of any age to be infected and transmit the virus, although older people and/or those with pre-existing medical conditions seem more likely to develop serious illness.
There are reports of a rare but serious multisystem inflammatory syndrome affecting children and adolescents, possibly associated with COVID-19. Clinical features can include but are not limited to: persistent fever; rash; red or pink eyes; swollen and/or red lips, tongue, hands, feet; gastrointestinal problems; low blood pressure; poor blood flow to organs; and other signs of inflammation.
Many of these children have tested positive for COVID-19. However, it is not known for sure whether COVID-19 infection is triggering this condition. So far, these cases have been reported mostly in North America and Europe. We do not know yet whether the condition is present in other parts of the world and just not yet recognized.
Children who have these symptoms should seek medical care. Early diagnosis and treatment are critical, but initial reports suggest most cases responded well to anti-inflammatory treatment.
Children may be disproportionately affected by measures taken to control the COVID-19 outbreak, such as school closures and physical distancing measures. Special attention needs to be paid to prevent and minimize negative consequences for children as much as possible.
What should I do if my child has symptoms of COVID-19?
Seek medical attention, but remember symptoms of COVID-19 such as cough or fever can be similar to those of the flu, or the common cold – which are a lot more frequent.
Continue to follow good hand and respiratory hygiene practices like regular handwashing so that your child is protected against other viruses and bacteria causing diseases.
As with other respiratory infections like the flu, seek care early if you or your child are having symptoms, and try to avoid going to public places (workplace, schools, public transport), to prevent it spreading to others.
What precautions should I take for my family if we travel?
Anyone planning a trip should always follow local and national guidance on whether it is advisable to travel. Those traveling should check the advisory for their destination for any restrictions on entry, quarantine requirements on entry, or other relevant travel advice. Follow the same personal protection measures during travel as you would at home.
In addition to taking standard travel precautions, and in order to avoid being quarantined or denied re-entry into your home country, you are also advised to check the latest COVID-19 update on the International Air Transport Association website, which includes a list of countries and restriction measures.
While traveling, all parents should follow standard hygiene measures for themselves and their children, such as washing hands properly and avoiding close contact with anyone who is coughing or sneezing. Additional recommendations include: Clean your seat, armrest, touchscreen, etc. with a disinfecting wipe once inside an aircraft or other vehicle. Also use a disinfecting wipe to clean key surfaces, doorknobs, remote controls, etc at the hotel or other accommodation where you and your children are staying.
Can pregnant women pass coronavirus to unborn children?
At this time, there is not enough evidence to determine whether the virus is transmitted from a mother to her baby during pregnancy, or the potential impact this may have on the baby. This is currently being investigated. Pregnant women should continue to follow appropriate precautions to protect themselves from exposure to the virus, and seek medical care early, if experiencing symptoms, such as fever, cough or difficulty breathing.
Is it safe for a mother to breastfeed if she is infected with coronavirus?
All mothers in affected and at-risk areas who have symptoms of fever, cough or difficulty breathing, should seek medical care early, and follow instructions from a health care provider.
Considering the benefits of breastfeeding and the insignificant role of breastmilk in the transmission of other respiratory viruses, the mother can continue breastfeeding, while applying all the necessary precautions.
I'm worried about bullying, discrimination and stigmatization. What's the best way to talk about what's happening?
It's understandable if you're feeling worried about the coronavirus. But fear and stigma make a difficult situation worse. For example, there are reports from around the world of individuals, particularly of Asian descent, being subject to verbal or even physical abuse.
Public health emergencies are stressful times for everyone affected. It's important to stay informed and to be kind and supportive to each other. Words matter, and using language that perpetuates existing stereotypes can drive people away from getting tested and taking the actions they need to protect themselves and their communities.
There's a lot of information about coronavirus online. What should I do?
There are a lot of myths and misinformation about coronavirus being shared online. UNICEF has launched a portal where you can find more information and guidance about COVID-19. It's also advisable to keep up to date on travel, education and other guidance provided by your national or local authorities for the latest recommendations and news. In addition, the WHO has a useful section addressing some of the most frequently asked questions.