MANILA, PHILIPPINES––'We can't be complacent yet. We can't relax,' says University of the Philippines math professor Guido David
The COVID-19 curve for virus epicenter Metro Manila has flattened, said an expert from the Octa Research Group of the University of the Philippines (UP), but he also warned government and the public against being complacent.
"We look at the reproduction number, and in NCR (National Capital Region) it's less than 1, so it's about 0.95, I think, the 7-day average, and it's decreasing. So those are good signs," said UP math professor Guido David in a phone interview with Rappler on Sunday, September 6.
David said the flattening of the curve so far pertained to Metro Manila and not for the entire Philippines yet. Octa Research Group earlier pointed out there were still virus hot spots or "areas of urgent concern" like Bacolod City, Iloilo City, Iligan City, Davao del Sur, Leyte, and Zamboanga City, where cases were on the rise or critical care was above the danger threshold.
The reproduction number measures a disease's "transmission potential"or the number of people one confirmed case can infect. Maintaining the reproduction number below 1 is a positive indicator in containing the pandemic.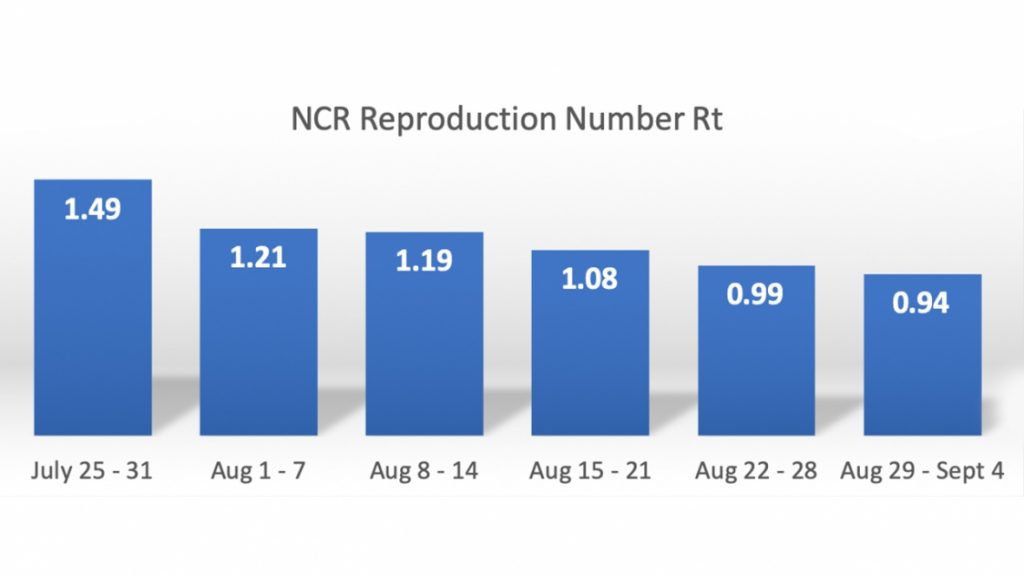 David likewise noted that the positivity rate – or the share of tests that come back positive – is decreasing in Metro Manila. 
Meanwhile, the COVID-19 bed occupancy rate in NCR stood at 63.4% as of Friday, September 4, compared to 76% reported in mid-July.
Nationwide, the 7-day average of new cases has also gone down in recent weeks to around 3,000 cases, from as high as 4,600 cases in mid-August. 
'We can't be complacent'
However, David noted in a mix of English and Filipino, "It doesn't mean that we don't have any more cases. The virus is still here, the pandemic is still here. It just means that the number of cases is decreasing."
David then warned that the lowering of the reproduction number is "not irreversible," that is, it could still go up again.
"We have to sustain this [downward] trend so that we don't waste the gains we made…during MECQ (modified enhanced community quarantine) and now under GCQ (general community quarantine)," he added.
"We can't be complacent yet. We can't relax…It will take us a while to reduce the number of cases to maybe 500 cases per day."
Metro Manila remains under GCQ until September 30, along with Bulacan and Batangas. 
Bacolod City and Tacloban City were reverted to GCQ, while Iligan City was placed back under the stricter MECQ. The rest of the country is under a modified GCQ or MGCQ, the most relaxed lockdown level.
Asked about whether Metro Manila can now be placed under MGCQ, David said the government should study it carefully. "I would say that we have to be careful about becoming overexcited about the positive trend. The virus is still here, and the best way for us is to contain the pandemic now while we're on a downward trend."
He added, "Yes, we're decreasing, we have two weeks of decline, but the number of cases is still high. We're still getting 2,000 cases in Metro Manila alone. And the moment we have a surge, that will be another problem again for our critical care [facilities]."
"We have to be careful about everything we do right now, because we don't want another surge to happen," David continued.
As of Sunday, September 6, the Philippines reported 237,365 confirmed coronavirus cases, of which 3,875 have died and 184,687 have recovered. This results in 48,803 active cases or 20.6% of confirmed cases. – with reports from Sofia Tomacruz/Rappler.com