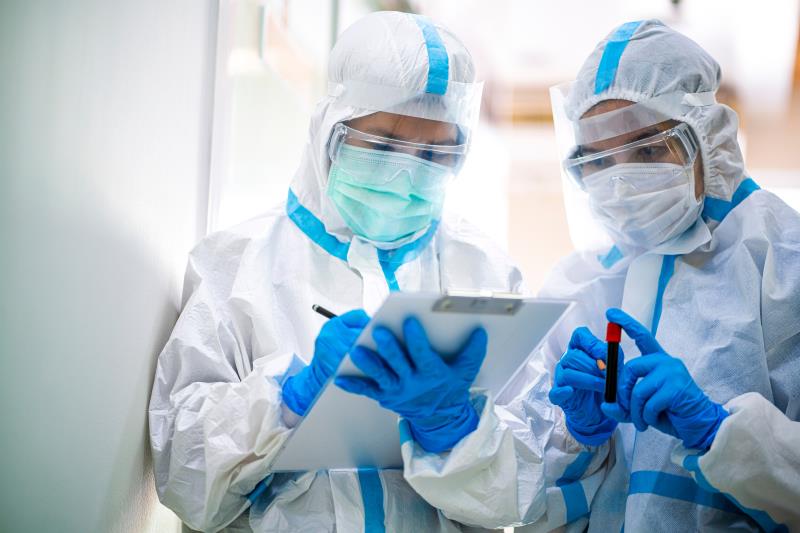 Testing of asymptomatic hospital staff in the UK suggests that 3 percent of them may be unknowingly infected with SARS-CoV-2, a study finds.
"This work implies that hospitals need to be vigilant and introduce broad screening programmes across their workforces," said principal investigator Dr Michael Weekes from the Cambridge Institute of Therapeutic Immunology and Infectious Disease (CITIID), Cambridge, UK.
"Test! Test! Test! And then test some more," Weekes urged. "All staff need to get tested regularly for COVID-19, regardless of whether they have any sort of symptoms — this will be vital to stop infection spreading within the hospital setting."
Among the 1,032 healthcare workers reporting fit for duty, 30 members (3 percent) had tested positive for COVID-19. [Elife 2020;doi:10.7554/eLife.58728]
Upon closer questioning, 17 (57 percent) were truly asymptomatic. Another 12 of those tested positive (40 percent) apparently had experienced symptoms indicative of COVID-19 more than a week before testing.
"Our data demonstrates the utility of comprehensive screening of healthcare workers with minimal or no symptoms. This approach will be critical for protecting patients and hospital staff," said Weekes and co-authors.
The study involved 1,032 asymptomatic NHS* staff at Addenbrooke's Hospital in Cambridge, UK, who underwent screening for SARS-CoV-2 over a 3 weeks period. Viral RNA from combined nose and throat swabs were detected using real-time RT-PCR. Symptomatic staff and household contacts were additionally tested.
Screening offers reassurance
"Beyond the obvious benefits of protecting staff and helping return NHS workers to the frontline, we think that testing might have additional positive impacts on health behaviour," pointed out Dr Christopher Duncan of Newcastle upon Tyne Hospitals NHS Foundation Trust, UK, who was lead investigator of another study on NHS hospital staff from Newcastle upon Tyne. [Lancet 2020;395:e77-e78]
"It may provide healthcare workers with the confidence that they can self-isolate with mild symptoms, knowing that a rapid negative result will enable them to return to work in a timely manner," he explained. "This might lessen the desire of staff with mild symptoms to 'soldier on', in fear of abandoning colleagues for between 7–14 days, so inadvertently contributing to the spread of the disease."
In this study, 1,654 hospital staff were divided into three groups based on job function and tested for SARS-CoV-2 using RT-PCR. The three groups were directly patient-facing (eg, doctors, nurses, porters), non-patient facing but at higher potential risk of nosocomial exposure (eg, laboratory and domestic staff), and nonclinical staff (such as those in administrative, clerical, and information technology roles).
The researchers found that that the rates of infection were comparable among frontline healthcare workers and those in nonclinical roles: 15.4 percent among staff with direct patient facing, 16.3 percent in nonpatient-facing roles, and 18.4 percent among nonclinical staff.
"Given that nonclinical staff had similar positivity rates to frontline staff, we conclude that current isolation protocols and personal protective equipment appear sufficient to prevent high levels of nosocomial transmission to frontline staff in our setting," noted Duncan and co-authors.
"Testing symptomatic staff has allowed us to identify cases early and we're able to provide support immediately to those who have become infected with coronavirus, advising that they self-isolate from others until their symptoms disappear. This means that their families and contacts remain safe," said senior co-author Dr Lucia Pareja-Cebrian, also from Newcastle Hospitals NHS Foundation Trust.
"It's important to us that we continue to test symptomatic staff to protect our patients, our staff and their families and loved ones," she added.
*NHS: National Health Service