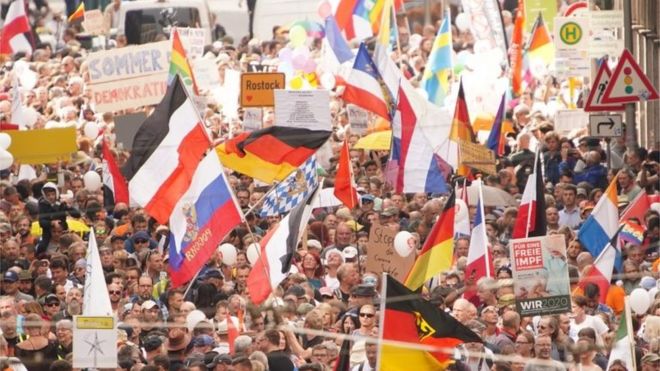 Thousands of people have marched through the German capital Berlin in protest at coronavirus restrictions.
Police imposed mandatory mask-wearing – and by midday ordered demonstrators to disperse for flouting the order.
The rally, which included right-wing protesters, was mostly peaceful. One person was arrested.
City authorities had tried to stop the march from going ahead, fearing safety measures would be ignored, but a court overturned the ban.
About 18,000 people took part in Saturday's march, police said.
Protesters were closely packed in places, and sat together on the ground at one point.
The police order came after participants refused to keep a safe distance from each other, the authorities said.
Many of the protesters said the reason they were marching was because fundamental freedoms were under threat from coronavirus restrictions such as social distancing and mask-wearing.
Counter-protests against the main march also took place, with about 100 people at one rally. "You are marching with Nazis and Fascists," shouted some participants, according to broadcaster RBB.
A Nazi flag was seen flying at the demo, reports German newspaper BZ.
A similar march several weeks ago was also broken up after protesters deliberately flouted safety regulations.
Although Germany has not so far seen the waves of cases seen in some parts of Europe, it does have a growing infection rate. New case numbers are reaching highs last seen in April.