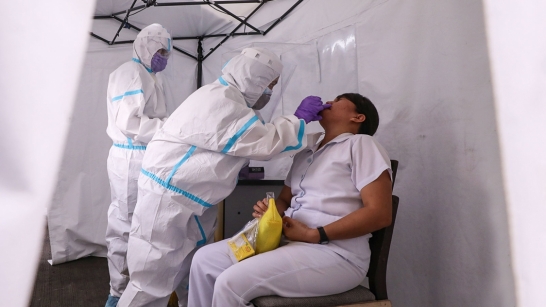 MANILA, PHILIPPINES
The Department of Health says the country's death toll from COVID-19 has reached 3,419, while total recoveries are now at 135,101
The Department of Health (DOH) reported 3,637 new confirmed cases of COVID-19 in the Philippines on August 29, Saturday, bringing the country's total confirmed cases to 213,131.
Active cases – total cases minus deaths and recoveries – were at 74,611 as of 4 pm Saturday.
These figures were based on total tests conducted by 102 out of 110 accredited COVID-19 laboratories across the country.
The DOH recorded 94 more fatalities from the disease, bringing the country's total reported death toll to 3,419.
Another 655 patients have recovered from the disease, the DOH said, bringing total recoveries to 135,101.
The DOH says 91.3% of active COVID-19 cases in the Philippines are mild, while 6.7% are asymptomatic, 0.8% severe, and 1.1% are critical.
Most of the new confirmed cases reported on Saturday were from Metro Manila: 2,030. Many of the other new cases were from:
Laguna: 217
Rizal: 155
Cavite: 142
Batangas: 113
The DOH said it removed 50 cases from the total case count. "The total cases reported may be subject to change as these numbers undergo constant cleaning and validation," the agency added.
Daily adjustments in reported cases and their status mean publicized daily totals may change later on.
The DOH said a total of 2,353,506 individuals have been tested for the coronavirus in the Philippines.
In terms of hospital capacity, the agency said 49% of about 1,700 intensive care unit (ICU) beds designated for COVID-19 patients were occupied as of Friday, August 28.
Some 48% of about 13,100 isolation beds, and 50% of around 5,300 ward beds were also occupied as of Friday.
Of around 2,100 mechanical ventilators, 28% are currently in use by COVID-19 patients. – Rappler.com