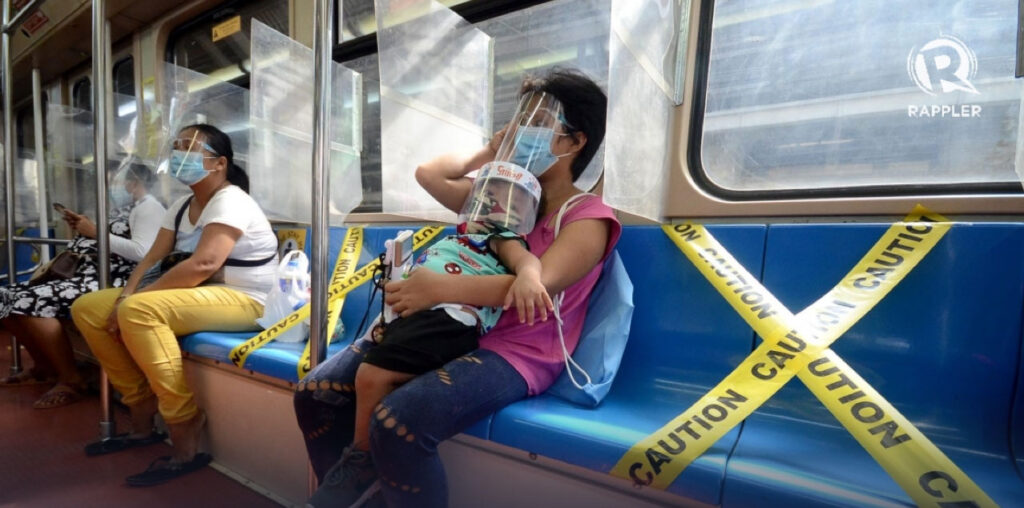 MANILA, PHILIPPINES––Even if people stand far apart from each other in a train car, if an infected person does not have a mask, people around are still at high risk of contracting COVID-19
The Philippines began implementing on Monday, September 14, reduced physical distancing in trains to allow more people to commute.
From the previously mandated one-meter distance between persons, the Department of Transportation (DOTr) reduced it to 0.75 meters.
The decision set off alarms for health experts and the Department of Health (DOH), especially since confirmed coronavirus cases breached 250,000 on September 11 – the day the policy was announced. On Wednesday, September 16, positive cases shot up to over 270,000 with over 4,700 deaths and over 207,000 recoveries.
In the first week of September, the DOH found that transportation settings and business process outsourcing companies had the second highest incidence of clustering cases. They came in next only to "communities" like villages and barangays.
The DOTr insisted, however, that the new measure is science-driven, citing research from the International Union of Railways (UIC) and experiences of other countries that "distance between passengers does not have to be too wide" to avoid virus transmission. The department plans to adjust the distancing requirement every two weeks – down to 0.5 meters on September 28, and to 0.3 meters on October 12.
What do the World Health Organization (WHO), experts, and other studies have to say about physical distancing, especially in public transport?
General physical distancing
The WHO's general rule for physical distancing is that people must keep a distance of at least one meter from each other and avoid spending time in crowded places or groups.
In a May 2020 report, the WHO advised governments to encourage physical distancing in public places and transportation, as well as in queues and in waiting areas.
An April 2020 study from Italian researchers also showed that airborne droplets could travel at a distance greater than two meters.
Effectiveness
Epidemiologist Dr Antonio Dans showed in a talk how physical distancing while wearing protective gear yielded varying levels of protection. The safest practice using a non-N95 mask is distancing oneself by 4 meters in open air.
In indoor settings, reducing transmission by over 99% can only be achieved with at least 4-meter distancing and masks, or at least two-meter distancing with masks and face shields. While this is recommended by the WHO, one-meter distancing provides a transmission reduction of just 82%. The wider the distance, the better protection.
A June 2020 report from medical journal The Lancet found that virus transmission was lower with physical distancing of one meter or more – compared to less than a meter.
"The findings of this systematic review of 172 studies on COVID-19, SARS (Severe Acute Respiratory Syndrome), and MERS (Middle East Respiratory Syndrome) provide the best available evidence that current policies of at least one-meter physical distancing are associated with a large reduction in infection, and distances of two meters might be more effective," the study found.
To balance economic interests, more people will need to get to places of work, and public transport will need to be allowed to accommodate more. A recent transportation journal article by academics Alejandro Tirachini and Oded Cats recommended that capacity guidelines be revisited as the pandemic evolves and more epidemiological knowledge becomes available.
The April 2020 UIC report cited by the DOTr said that trains can increase occupancies if passengers observed multiple preventive measures at the same time. "Using other prevention measures in combination with social distancing, as wearing a mask, will modify the threshold of social distancing, and thus enable to increase the occupancy rate of trains," the report said.
Advice, experiences in other countries
WHO regional offices in Europe, Africa, Laos, and Malaysia-Brunei-Singapore all advise a one-meter distance between public transport passengers.
WHO Europe also discourages sharing taxis, since physical distancing "would not be possible."
In other countries where coronavirus cases have decreased considerably or have indicated more recoveries, reduced physical distance requirements coupled with the usual preventive measures have been implemented.
Singapore's policy of keeping a one-meter distance only applies to "non-transient" settings. The country's Land Transport Authority acknowledges physical distancing in public transportation is "not always possible," so it issued general guidelines telling passengers to wear masks and avoid talking to each other.
Guidelines from South Korea's Ministry of Health and Welfare advise passengers to keep physical distancing to "the maximum extent possible" while taking public transport. Basic guidelines recommend a distance of two meters, and one meter "in the inevitable situation" in everyday life.
Koreans are told to consider skipping a row of seats between oneself and other riders, like taking a window seat over middle and aisle seats.
In Seoul, Tirachini and Cats found that "a physical distance shorter than one meter in public transportation seems to work well under universal mask use and high hygiene standards."
The academics also found that in Japan, even if there were public transport systems running large occupancies with passenger spacing below two meters, no COVID-19 outbreaks were attributed to public transport when everyone wore masks. Japan has averaged only over 760 positive cases from August 15 to September 15.
In the United States, most contagion clusters were found in social settings where people eat, drink, chat, and sing. These include places like gyms, pubs, live music venues, and karaoke rooms. No cluster was found to be linked to commuter trains, according to the same study.
Similarly, in France, 150 clusters of coronavirus contagion were found between May 9 and June 3. However, none of the clusters were associated with public transit. Instead, they occurred in healthcare facilities, workplaces, and homeless shelters.
Thailand and Malaysia eased distancing requirements after implementing lockdowns that were successful in curbing the spread of the coronavirus. Both countries had single-digit cases when these restrictions were lifted.
"It is worth stressing that solid evidence on the COVID-19 transmission risk in public transportation under different use and operation rules (including the adoption of preventive strategies) is still scarce, and new insights are expected to be gained in the coming months," said Tirachini and Cats.
Beyond physical distancing
While physical distancing plays a significant part in helping curb virus transmission, the WHO has advised that this should be combined with other measures like wearing masks, avoiding non-essential travel during peak hours, and walking or biking to places instead of taking public transport.
Even if people stand far apart from each other in a train car, if an infected person does not have a mask, people around are still at high risk of contracting COVID-19.
Experts say it is important to consider the contexts of where different countries are in battling the pandemic. The average daily new cases among the countries that don't have strict distancing rules, for instance, differed greatly from the Philippines. Here are the average daily new cases for some countries from August 15 to September 15:
Thailand – 3.25
Malaysia – 25.6
Singapore – 61.2
South Korea – 234.9
Japan – 763.9
Philippines – 3,674
Dr Dans, in a webinar on Monday, September 14, said that it is too early to relax public transportation measures.
"Malamang na dumami lalo ang kaso at bumagal recovery natin kung gawin natin ito ngayon (Cases will surely rise and hamper our recovery if we do this now)," said Dans.
Dr Tony Leachon, former adviser to the COVID-19 Inter-Agency Task Force for the Management of Emerging Infectious Diseases (IATF), also said that the Philippine government should not compare itself to other countries that do not have strict distancing rules in public transit.
Referring to Singapore and South Korea, Leachon said in a text message to Rappler, "We don't compare ourselves with other countries since these countries have flattened the curves – and we have not! And they have great discipline and culture as a country in terms of social distancing."
Meanwhile, in a September 15 statement, health experts led by former health secretary Manuel Dayrit said physical distancing can be maintained below one meter, as long as other health measures are also implemented. The group presented 7 recommendations for public transportation to the IATF:
Wearing of proper face masks
Wearing of face shields
No talking and no eating
Adequate ventilation
Frequent and proper disinfection
No symptomatic passengers
Appropriate physical distancing
"We believe that there is a way forward that carefully balances a careful reopening of public transport capacity, with public health, while allowing purposeful flexibility to readjust measures based on actual and evolving data from the ground," the experts said. – with Aika Rey/Rappler.com